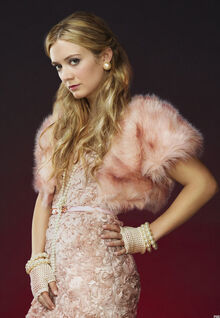 Sadie Swenson (AKA Chanel #3) was Team Leader of the Dickie Dollar Scholars in the first season of Scream Queens Big Brother, and is now a contestant in its second season. She was portrayed by Queen Bela, and is portrayed by Mr Wubbzy in season two. She was a runner-up on the first season (ending up in 4th place). She is currently on Screaming Dildos in Season Two.
Ad blocker interference detected!
Wikia is a free-to-use site that makes money from advertising. We have a modified experience for viewers using ad blockers

Wikia is not accessible if you've made further modifications. Remove the custom ad blocker rule(s) and the page will load as expected.